Product
This app displays the internal names of contact account names and types, and their linked contacts groups, which are located on your Android device.

If these informations can be used with our contacts apps, XlContactExport and XlContactImport, the approach of the app can also be useful as a way to understand "what's going on" on your device. Indeed, contact account names and types, as well as the group names, are most of the time translated on the Android interface (and maybe sometimes hidden), and the internal names sometimes appears at the surface after failed operations, like failed sync operations (as seen on the Android forums).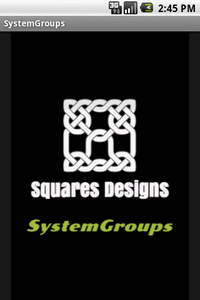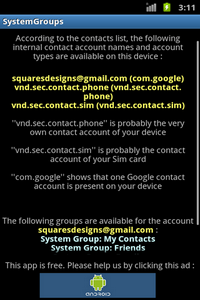 Compatibility
From 1.1.10 version to above, SystemGroups works from Android 2.3 to 9.x devices.

Version 1.0.6 is still available on Google Play if your Smartphone is equiped with Android 1.6, 2.0.x, 2.1.x or 2.2.x.

SystemGroups has been tested on Android 1.6, 2.x, 3.x, 4.x, 5.x, 6.x, 7.x, 8.x, 9.x devices. Tests on Android 10.x are currently in progress, but as the early results show, the app should work fine too.
Permissions needed
Here are the permissions needed on your device in order for this app to work properly :
android.permission.GET_ACCOUNTS
android.permission.INTERNET
android.permission.ACCESS_NETWORK_STATE
android.permission.READ_CONTACTS
Note : android.permission.GET_ACCOUNTS and android.permission.READ_CONTACTS are complementary, as all accounts are not necessarily carriers of contacts.
Download
Download the latest version of this app on Google Play, the new incarnation of the Android Market, or (in a few months to come) on the Opera Mobile Store. See here.
Important note
THE SOFTWARE IS PROVIDED "AS IS", WITHOUT WARRANTY OF ANY KIND, EXPRESS OR
IMPLIED, INCLUDING BUT NOT LIMITED TO THE WARRANTIES OF MERCHANTABILITY,
FITNESS FOR A PARTICULAR PURPOSE AND NONINFRINGEMENT. IN NO EVENT SHALL THE
AUTHORS BE LIABLE FOR ANY CLAIM, DAMAGES OR OTHER LIABILITY, WHETHER IN AN
ACTION OF CONTRACT, TORT OR OTHERWISE, ARISING FROM, OUT OF OR IN CONNECTION
WITH THE SOFTWARE OR THE USE OR OTHER DEALINGS IN THE SOFTWARE.