Product
What is it ?
Color Vote is an app dedicated to transform your smartphone in a full-screen colored card. It can be useful to display a colored "vote" in any handheld vote situation in a public place, where color is prevalent. For example, it can be used in a quizz contest situation with friends in a pub, or in a scolar quizz contest. Another possible use would be in a improvisational (improv) comedy competition, for the color vote at the end of a round.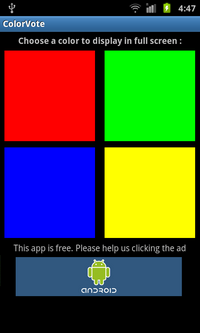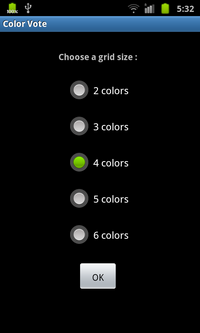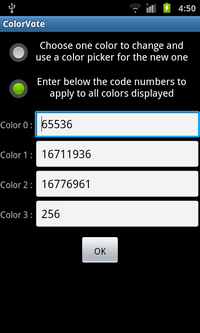 Originally, I conceived this solution for a colleague which needed this app for quizz sessions with friends, but I also discovered it could be useful in other situation where a color vote is needed.
How it works
Color Vote presents, by default, a grid of four colored cards on the smartphone screen. If you press the smartphone screen on one of the four cards, the color of the selected card will be displayed full-screen. If you press again the screen, you will return to the selection screen with the four cards.
You can change the number of displayed cards, switching the grid to two, three, five or six cards instead of four. The colors of the cards can be changed too.
Features of this app
five grids size are available (2, 3, 4, 5 or 6 color cards)
the squares size adjusts automatically to the width of the screen
two "change color" modes : colors can be modified using a color picker, or entering number codes to share easily the same range between devices, if needed.
"save mode" for colors : any modified choice of colors will be save automatically on the phone memory
"reset" option to go back to the default colors
Compatibility
Color Vote has been tested on Android 1.6, 2.x, 3.x, 4.x, 5.x, 6.x, 7.x, 8.x, 9.x devices. Tests on Android 10.x are currently in progress, but as the early results show, the app should work fine too.

The current version of Color Vote is designed to work on 2.3.x (and above) devices, but a older compatible version with Android 1.6, 2.0.x, 2.1.x and 2.2.x, with all the main functions, is still available when you download the app from Google Play.
Permissions needed
Here are the permissions needed on your device in order for this app to work properly :
android.permission.INTERNET
android.permission.ACCESS_NETWORK_STATE
android.permission.READ_PHONE_STATE
android.permission.ACCESS_COARSE_LOCATION
android.permission.ACCESS_FINE_LOCATION
These permissions are only designed to enable the ad banners to work (see
the FAQ page
for more details).
Download
Download the latest version of this app on Google Play, the new incarnation of the Android Market, or (in a few months to come) on the Opera Mobile Store. See here.
Future of the app
Improvements and new features will come with future versions (I already have some ideas to design), but do not hesitate to contact me if you have ideas that could improve this app.
Important note
THE SOFTWARE IS PROVIDED "AS IS", WITHOUT WARRANTY OF ANY KIND, EXPRESS OR
IMPLIED, INCLUDING BUT NOT LIMITED TO THE WARRANTIES OF MERCHANTABILITY,
FITNESS FOR A PARTICULAR PURPOSE AND NONINFRINGEMENT. IN NO EVENT SHALL THE
AUTHORS BE LIABLE FOR ANY CLAIM, DAMAGES OR OTHER LIABILITY, WHETHER IN AN
ACTION OF CONTRACT, TORT OR OTHERWISE, ARISING FROM, OUT OF OR IN CONNECTION
WITH THE SOFTWARE OR THE USE OR OTHER DEALINGS IN THE SOFTWARE.